Drawing on 10 year programming experience in various tech companies, 10 year experience as an independent artist, and lifelong interest in experimental art and social history of alternative communities, I aim to provide a 'superfused' digital media offering to clients in the cultural sector and LGBTQ community. Feedbacks and Linkedin recommendations highlight my awareness of user experience, commitment to fully understand a client's requirements, and tenacity to get things done.
www.brightontransformed.org.uk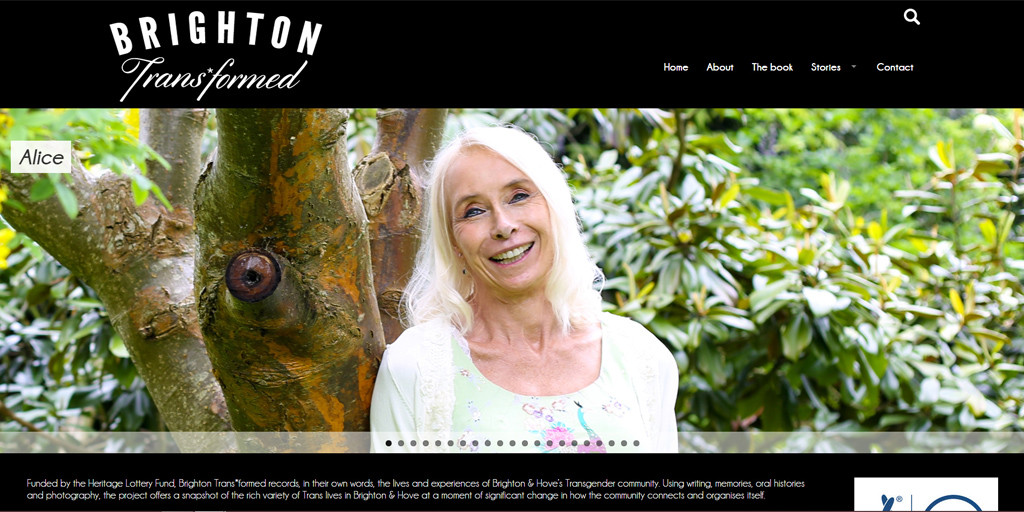 Brighton Trans*formed is a oral history project documenting the lives of transgender residents of Brighton and Hove , organised by community publisher QueenSpark Books and funded by Heritage Lottery Fund. This fully responsive WordPress website holds each participant's full length unedited interview, currently in transcript form, with the audio being added as they are processed. The custom theme was inspired by the book design, and puts the focus on each participant's portrait. It looks beautiful and scrolls effortlessly on an ipad, so you can enjoy the website like an ebook.
The project organisers, Queenspark Books, left this feedback on LinkedIn:
This type of website was a new initiative for QueenSpark, and for a company such as ours, with a very small staff, it could have been a very difficult process. Melanie used creativity, initiative, great skill and determination to guide and support us through the process, and as a result we have a website that looks and functions great, and which all of the participants are proud of.
In addition to the design and planning of our Brighton Transformed website, Melanie generated hosting and domain names. She also helped to track and store website content (images, text, audio) in addition to her role as website developer, and was incredibly thorough in this aspect.
She truly went beyond the call of duty for this role and the result is something we are very happy with!